Gibson Rides » Henry Katz, President - Innovative Business Systems, Inc.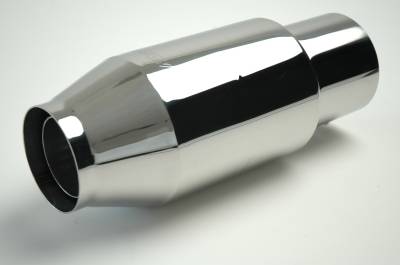 "Just wanted to drop you a line to let you know how thrilled I am with my new Gibson Marine Bullet Mufflers. I purchased a pair of 110003 mufflers for my extremely loud boat with a single Mercury 525 which was delivered to me with straight 4.5" exhaust tubes (dry just until the tip). The boat was so loud that our ears rang after the engine was shut down. Talking to a passenger while underway was completely impossible. From idle to full throttle, the boat is now 1/10 as loud as it was before. In fact, at full throttle, the most noise you now hear is from the wind!
One last thing that I would like to report is that my boat did not lose any speed whatsoever after the mufflers were installed. I measure my speed with a GPS and although it varies a bit from one day to the next, on my first outing since installing the mufflers, I was able to match my previous highest recorded speed. So if anyone thinks that a boat needs to be loud or its losing power I say bull. Great product, well priced and well made! Way to go Gibson Marine!"